Myrto Pirli's Beatle Page
Members of the Band
John Lennon(Full name John Winston Lennon): 9.10.1940, Liverpool-8.12.1980, New York
Paul McCartney(Full name James Paul McCartney): 18.06.1942, Liverpool-(see bottom of page)
George Harrison: 25.02.1943, Liverpool- 29.11.2001, Los Angeles (biography)
Ringo Starr(Real name Richard Starkey): 7.07.1940, Liverpool-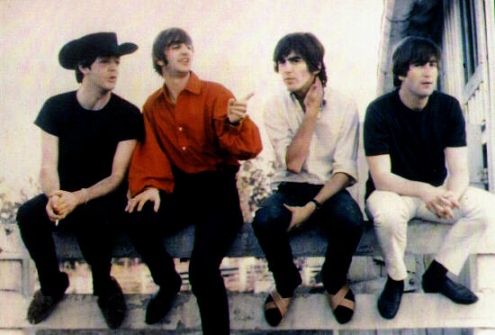 (l-r):Paul, Ringo, George, John (1965)


The Beatles were one of the greatest -if not THE greatest- bands of our century. They were among the first to use backward melodies and loops in songs. From the beginning of their carrier in 1963, when they were teen idols, to when they stopped touring in 1966 to concentrate more on their music and make some of the greatest records ever, to their breakup in 1970 which broke the hearts of fans all over the world, they broke barriers and changed music for ever.

"With our love, with our love, we could change the world, if they only knew..."
LP's
Please Please Me(1963)
With the Beatles(1963)
A Hard Day's Night(1964)
Beatles for Sale(1964)
Help!(1965)
Rubber Soul(1965)
Revolver(1966)
Sgt.Pepper's Lonely Hearts Club Band(1967)
Magical Mystery Tour(1967)
The Beatles(a/k/a The White Album)(1968)
Yellow Submarine(1968)
Abbey Road(1969)
Let it Be(1970)
All records produced by George Martin except Let it be by Phil Spector.

The date of Paul's death remains a mystery to mankind. Although most logical people(including me) believe that he is still alive and therefore his date of death is unknown(i.e.we don't know when/if he will die), some other people-who, it seems, are much more clever and much less naive than the rest of us-insist that Paul died in the sixties and that his death has since been kept a secret, although the Beatles have-according to the people mentioned above-been dropping clues on their records about this event. Read about the "Paul is dead" cult formed by these very clever people and about the very clever clues they have found which lead to the conclusion that Paul died in 1966.
---
Download a Yellow Submarine font at www.coolarchive.com!
Download a Magical Mystery Tour font!
Mail me at:pirli@ceid.upatras.gr
---
Back to the top

Photos taken from the Photo ops Arcives of the Beatles at Abbey Road Web Site.