Important Villages




Filoti

At a distance of 20 km from Hora there is the biggest (it has 3.000 inhabitants) and the most traditional village of Naxos, Filoti. It is built on a privileged site with a breathtaking view to the dive-tree wood of Naxos. A visit to Filoti, because of its natural beauty, is advisable, it is one of the historic centres of civilization on the island with dynamic inhabitants who are in love with their tradition. We suggest a visit to its small picturesque roads, to the old church of Panagia (Virgin Mary) with the remarkable icons, and, of course, to the traditional cafes in the central square of the village. A path leads from Philoti to Zas (Jupiter) mountain with the historic cave and the magnificent landscapes. One should also visit the historic Tower of Chimaros, which is a majestic monument of the early historic years of Naxos. A visit to the wonderful Kalando beach is also advisable. In Filoti there are restaurants, cafeterias, traditional cafes and some rooms to let. On 15th August, Panagias' name-day, in Philoti there is organized the greatest festival of Naxos with traditional folk music, dances, wine and delicacies.

Apeiranthos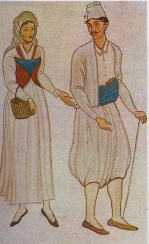 At a distance of about 27 km from the town (Hora) is built among two total green valleys, Apeiranthos, which is one of the most beautiful villages of Naxos and one of the few traditional cities of Cyclades at the same time.

The stone worked by the best craftsmen adorns the paved roads and squares and it constitutes the basic material of construction for the Apeiranthos' house.

Among the sightseeings are the Venetian castle with its imposing site, the marble belfry of the church of Virgin Mary and the all round view from and towards the village with the windmills at the tops of the opposite hills. The footpaths at the way-outs of the village lead to distinguished Byzantine churches and especially, most of them dispose unique sacred paintings like Agia Kiriaki, Agios loannis Theologos, Agios Pahoumios, etc.

In Apeipanthos there are an exhibition of woven textiles from the women cooperation of the village, an interesting market of popular art, even taverns, traditional coffee shops and some rooms for rent.


Museums of Apeiranthos
Arcaeological Museum : It concludes exceptional findings of the Cyclades civilization (3000-1200 B.C.), plaques covered with iconograms of First Greek writing, engraved representations on the rocks with scenes of the life of the period of Cyclades civilization, representations of Spira on plaques, maps of the sky, even small statuesque figures (idolia) and olive-oil lights etc.

Museum of popular art: The Apeiranthos' house with its all households materials of daily usage is adorned with handmade woven textiles of a high technique made with loving care by the women of the village. It also includes many objects from the occupation of the inhabitants (agricultural, stock-breeding tools or tools for the process of marble)
Geological Museum : Exceptional stones of Naxos are exposed, especially one called Smyrida, even fossils of the area with the most significant, the head of a dwarf elephant (small elephant).
Moutsouna

The picturesque harbour of Moutsouna, the port serving the inland town of Apeiranthos. (at a distance of 12 km from the village), is one of the few genuine fishharbours which there are in the island. Overhere, you can have a nice holiday enjoying both the sea with the beautiful seashores and fresh fish, the local meat and cheeses, the pies and the traditional appetizers at the picturesque taverns of the preserved city. There are some new tottaly equipped rooms for tent and a small market of daily products.

15 km of marvellous shores and of wild natural beauty compose the profile of one of the most beautiful beaches of Cyclades. The bay of Azaia is ideal for surfing and underwater fishing and also, Psili Ammos, Klidos and Panormos with the little port and the prehistoyical Acropolis, compose a chain of unforgettable beauty.

Our suggestions for Moutsouna is to visit the installations of aerial transport and storing of Smyrida and the visit to the islands around (Small Cyclades), the Inhabitants organise excursions daily by boat.