Transportation

During the Summer season there are daily sailings Piraeus - Naxos (103 miles) and Naxos - Piraeus, by 4-6 ships. There are also connections 3 times a week between Naxos and Rafina (87 miles, 35 km. northeast of Athens with buses connecting Rafina and Athens every hour).
Length of Journey : 6 hours from Piraeus
The connections between Naxos and other Islands are as listed below :
los - Thera (Santorini): daily
Paros: daily
Syros: 4 times a week
Sikinos-Folegandros: 4 times a week
Heraklia-Schinoussa-Koufonissi-Amorgos-Donoussa daily
Astypalea: once a week
Crete: 3 times a week
Siphnos-Seriphos: 3 times a week
Myconos-Tenos-Andros: daily
Samos-lkaria: 3 times a week
Mykonos-Delos: daily
There are frequent services from Akti Kondili of Piraeus to Naxos by hydrofoils. The trip takes about 3 hours and 15 minutes.There are also frequent services from Rafina to the port of Naxos by hydrofoils.

Also there are daily excursions, leaving in the morning and returning in the evening -weather permitting. In the periods April-June and September-October there are less connections.

For information: in Naxos go to the travel agencies and in Athens-Piraeus Ask to the Central Shipping agencies.
| | |
| --- | --- |
| PORTS | PHONE NUMBERS |
| Port Authority of Piraeus | 4226000-4 |
| Port Authority of Rafina | (0294) 28888, 22300 |
| Port Authority of Naxos | (0285) 22300, 23939 |
| | |
| --- | --- |
| TRAVEL AGENCIES | PHONE NUMBERS |
| HERMES Travel Agency Offices of Piraeus | 4283810, 4282591, 4224861 |
| ILIO LINES Travel Agency Offices of Athens | 3225253 |
| ILIO LINES Travel Agency Offices of Rafina | (0294) 25100 |
There are regular flights (45 minutes) from the western airport of Athens to the airport of Naxos.
| | |
| --- | --- |
| AIRPORTS | PHONE NUMBERS |
| Olympic Airways Offices of Athens | 9666666, 936363-5 |
| Olympic Airways Offices of Naxos | (0285) 23830, 23840 |
| Airport of Naxos | (0285) 23292 |
There are frequent bus services to all the villages as well as many taxis to meet your travel needs, if you prefer. The main bus route for the "KTEL" company is: Naxos(Hora) - Galanado - Halki - Filoti - Apeiranthos - Koronos - Skado - Komiaki - Apollonas. There are also frequent services to : Naxos(Hora) - Kastraki - Pyrgaki and Naxos(Hora) - Ag. Anna during the summer months.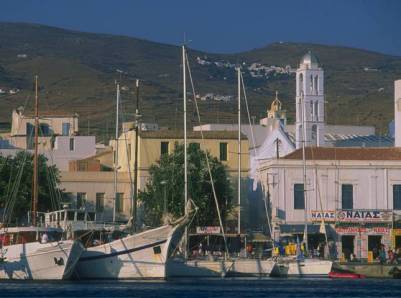 There is a satisfying level of connections between the Town and the main villages. Most of the buses are relatively new and generally comfortable. Distances are quite short -not more than 60 km. (to Apollon) and not particularly tiring. We stress not particularly tiring because the roads in Naxos, except for a large piece of the main road and the Glinado-Tripodes section are not in very satisfactory condition. Many of the roads that lead to the beaches are unsealed. However this state of affairs heightens the local colour of the island and separates the routine of life in a European city from the carefree life of holidays on an Aegean island.
We will try to give you some information about the state of the roads because we believe that besides the bus, an excursion out of the town by car or motorbike is well worth while. If you don't have your own means of transport there are many car and motorbike hire firms and their prices are very reasonable.
The main central road from Chora-Filofi-Apollon is tar-sealed. From Hora to Galanado the surface is old but satisfactory. From Galanado to Apiranthos it is new and in good condition, although care is needed in certain tight bends, and it must be understood that none of the roads are built for speed.
From Apiranthos to Stavros (a small white church a few kilometres on from Apiranthos) the road is old, narrow, and a little dangerous -careful driving is recommended. From Stavros the view is amazing (the altitude is about 700 m), and the road from there to Koronos is new and good.
From Koronos to 3 km. out of Komiaki care is required because the road is in poor condition. From Komiaki the road is unsatisfactory until the last 7 km before Apollon where it is in normal condition, requiring low speeds and considerable caution.
The new road Hora-Airport-Agios Procopios-Agia Anna is new and in very good condition. The road Hora-Glinado-Tripodes-Kastraki-Alyko-Pyrgaki is good and new until 1 km after Tripodes from where it is old but quite good until Alyko and unsealed for the last kilometre before Pirgaki. The road from Koronos to Lionas is good but requires care because of its dangerous bends and steep downward slope. The road to the beach of Agiasos is unsealed. The road Halki-Moni-Kinidaros is good and newly-sealed and connects with the equally good road from Kinidaros to Stavros. Car is recommended on the road between Kinidaros and Engares, as well as from Apiranthos to Moutsouna, altough it is tar-sealed. The road from Hora to Melanes is quite good. Another passable unsealed road is that which joins Sangri with the main Hora-Apollon road and the road from Hora to Kastraki and Alyko.
Further infomation may be obtained from the KTEL Bus Office, Tel, 22291.
The travel agents arrange daily excursions, in their own buses, from Chora to Apollon with sightseeing stops at Halki, Filoti and Apiranthos and there are also frequent excursions to Kouros at Melanes and the beach at Pyrgaki.