Sports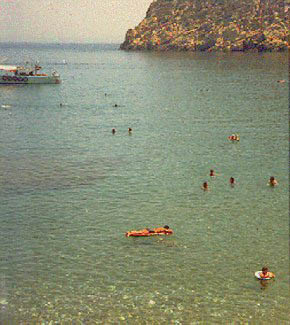 Naxos has not yet developed facilities for all the kinds of sports that might interest the visitor. Year by year, however, both public and private facilities are being built and equipped. At present, apart from the large beaches suitable for swimming and sand sports (e.g. beach tennis and Volley) there are also many opportunities for wind-surfing, due to the steady winds which blow for most of the summer season. In the areas of St. George beach and Agios Prokopios and Agia Anna there are wind-Surfing Schools which cater for both beginners and experienced wind-surfers.

For those who know the sport well the beaches at Kastraki, Pyrgaki, Moutsouna and Agiassos supply sea conditions and wind speeds of 4.7 on the Beaufort scale which can only be compared with the Hawaiian islands. At St. George and Pyrgaki there are water-skiing schools. At St. George you can also rent pedalos, wind-surfers and small boats. The sea around the island is ideal for all kinds of fishing. Notice must be taken, however, of the fact that underwater fishing at night and diving of any kind using oxygen tanks is strictly forbidden.

Hikers are well served by footpaths and roads with fantastic views as well as tracks up onto the Mountain of Zeus. Visits to the Chapels and Monastiries of the island are recommended. The steepness of the roads in Naxos is not prohibitive to amateur cyclists. There are also available Tennis courts (in the grounds of the "Aspra Spitia" hotel at "Mathiassos Village" and mini-golf ("Mathiassos Village"). Many hotels have ping-pong tables. The Public Stadium of Naxos is available for track and athletics and roads all around the island are suitable for jogging at all times of the day and night. Basketball and Volleyball are also played in Naxos as well as the popular football.